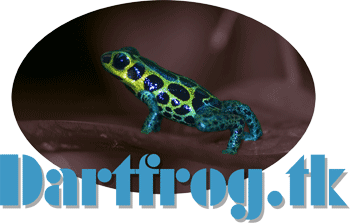 Welcome to Dartfrog.tk

Major update ongoing

There is a major job going on with this website. It will be moved to a new platform. The design will be similar, so you wont feel lost, but the items behind for maintaining and updating the content of the site will be working a lot better. Meaning it will be easier to add new photos, articles and so on. So please hang on and visit us soon again to see the new.
It is not decided what date it will go online, but you will notice.

For everyone of you who thought this website was non active, it will be back soon after some time on idle.
It is also possible that I will add Swedish as a second language at the website. I have not decided that yet, since it means that all updates and articles has to be written in 2 times. But I had some requests about this from Swedish froggers. The functions will at least be possible to add for example to sales pages and other selected pages.


The new Oophaga Lehmanni DVD/BD!
I still have a limited number of the Oophaga Lehmanni DVD with Swedish subtitles for sale. A limited number in stock.
It is a multilanguage version with swedish, english, german, spannish and chinese subtitles added from Armin Reiss and his brand Hardstone Video. Available for delivery. Price 150 SEK if you pick them up at my place. 170SEK including shipping whithin Sweden. Please send a mail if interested.
Photos from your "special" vivarium - Your photos requested!
I'm interested in putting photos from your very special vivarium online here, but I need your help. It might be that you have made some special solutions or just a very betiful and natural vivarium, please let me know.
There is much people around that has been showing a very big interest in how you can make artificial rocks, branches and waterfalls and so on, so please, send me a mail and I'll answer you with information about how to upload the files and a possible description of the content in the photos.
Articles and travel logs
I have started add some more to the 'articles' area here at the website. There is articles added about O. granuliferus, O. granuliferus "green", O. pumilio "blue jeans" and O. pumilio "black jeans" and about the Nordic Frog day in Denmark. There is still photos missing in the frog articles, but they will be added as soon as i get some time to go through all photos. Thats the backside of having thousands of nice photos to select among.



Dennis Nilsson - webmaster and site owner of DartFrog.tk